COLLECTIVE ART PROJECTS, FUNDRAISING, MUSIC PERFORMANCES
some shows i've booked for fun and for WUVT 90.7
​
NEWMAN / NNAMDI OGBONNAYA / T-REXTASY / BREAD PILOT / TERROR PIGEON / NATHAN K / DENZELL / BUSTER / RARELUTH / REAL DOM / MOSS KINGDOM / BLOOD MOON RITUAL S'IL VOUS PLATH SIKES KEON THE TILLS / THE DUE DILIGENCE / SOLO BASURA / DAEVA / BENNY OKOTO / FUZZQUEEN / BOYSCOTT / FLEECE / THE GEEBIES / SONIC EDDY / WHATS YER SIGN / CALEB FLOOD
MUSIC SHOWS (2015 - PRESENT)
in partnership with Nia Zekan
​
an exhibit/performance based around devotion, wholesomeness, and living forever in paradise.
​
read our new bible on the "design and writing" page.
ONE NIGHT RELIGION (2017)
a participatory exhibit showcasing over 60+ smells each with their own notes and description written by yours truly, a scratch n' sniff film, interactive smell maps + logs, and the debut of the second edition value criterion. probably the biggest representation of my heart.
a night of poetry, beats, with a lil mini zine fair all wrapped up inside. i had this event in the basement of a local house venue, the litterbox, and tried to make everyone feel like they were in a spaceship wrapped up like a giant burrito.
THE POETIQUE DISCOTHEQUE (2017)
in collaboration with Nia Zekan
a fundraising effort for resistance against the mountain valley pipeline -- for each $5 donated, a custom paper mache volcano was created. on a livestream, all of the volcanoes were detonated at the same time. the police tried to show up and my landlord searched my backyard. detonated with an homage to the classic early youtube relic, mentos and diet coke.
EXPLODE A VOLCANO! (2018)
in early 2017 i was in a tiny bookstore in the middle of rural southwest virginia and i found a children's book outlining how they can live forever in paradise on earth. reading that book sparked a semi-perody semi-tru doom music group known as satan's fingerpiano, giving way to an eventual two person rock opera, a set devoted to finding love on early mars, and the existential pain of being a robot programmed for devotion.
SATAN'S FINGERPIANO (2017-2018)
a play on the work of jackson pollock, jackson potluck is a communal art project where people can use old or unwanted food in order to create a piece of abstract work. i first created a "jackson potluck" in september 2015 in my friend's yard, and once again on a larger scale in late june of 2017.
JACKSOn POTLUCK (2015, 2017)
one tuesday all of my roommates left town, so i hosted an open mic in my living room. to enter the open mic you have to make a tinfoil hat, and people made some real good stuff. there was also a running projector in the bathroom that played a slideshow of local poetry to keep you company as you pooped.
TINFOIL HAT TUESDAY (2017)
a sommelier exercise for the most coveted and secretly complex of all beverages. over twenty different types of root beer provided, alongside palette pairings. proceeds benefitted resistance against the Mountain Valley Pipeline.
a community flea market, with proceeds supporting resistance efforts against the mountain valley pipeline.
NO MVP FLEA MARKET (2018)
a music/art show collaborative i designed and curated for WUVT 90.7 and for the resistance efforts against the Mountain Valley Pipeline. there were custom mocktails chosen by the WUVT 90.7 events team, a room where you could speed date cyborgs, and ~ romance in the air ~
MOCKTAILS, MUSIC, AND THE MVP (2017)
a performance piece where you play mini golf on a course made out of trash. in the early summer i would go dumpster diving and this exhibit was a result of some dang good finds. winner is the person that cries the easiest.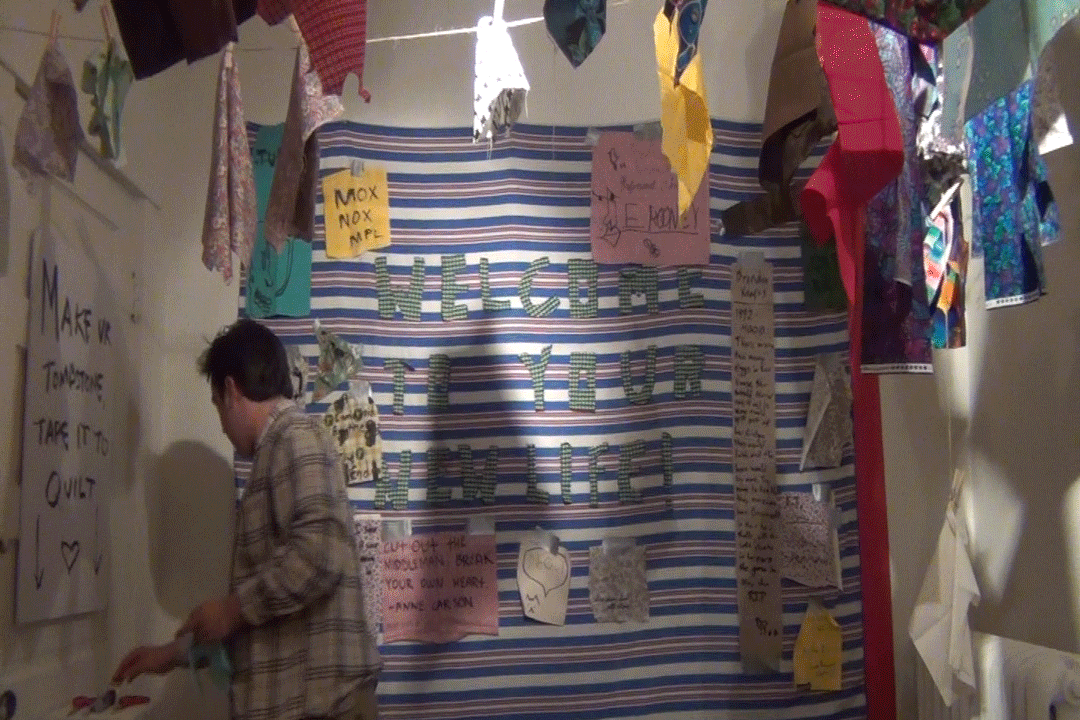 in may i ended up booking a show with the band fleece (fleecemusic.bandcamp.com) and thought it would be ~hilarious~ to do an event involving fabric. around the same time i got really into the idea of "quilt culture", and felt a community quilting session was in order.
QUILT CONGREGATION (2017)